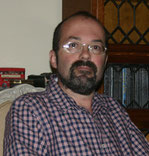 BIOGRAPHY
E. F. Gibert, born in Madrid in 1961, has been interested in drawing since childhood, and has been working in the genre of fantasy art since 1986. A self-taught amatuer ilustrator until 2014, in the last 7 years Gibert has exhibited his work in many diverse settings, and for a variety of commissions. He primarily uses pencil and pastel techniques.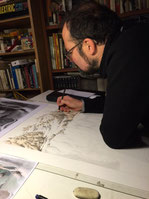 Gibert also draws comics, and has been published in various caving and speleology magazines (Jumar, Kaos de Bloques, Boletin Espeleomadrid, Cuadernos del Ason) between the years 1984 and 2005. He obtained two prizes in the national contest
ESPELECOMIC ETC in 1990 (best critic) and 1992 (best script).